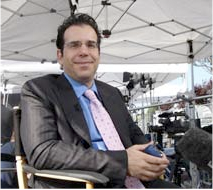 The Law Offices of Ronald Richards and Associates, A.P.C. combines experienced and seasoned trial counsel with hard working, tireless staff. Most people are not aware of this, but lawyers admitted to practice law after 1994 are usually proficient in computerized research which gives a large advantage to any plaintiff or defendant in litigation. The firm is led by Ronald Richards. Mr. Richards has numerous Federal and State jury trials under his belt as well as over 100 bench trials, as well as complicated appeals pending in both the California Court of Appeal and the United States Court of Appeals for the 9th Circuit.  He has numerous published opinions in both the State and Federal Courts.  Mr. Richards has made new law affecting tens of thousands of Americans.  He is a member of the following federal courts:  United States Supreme Court Bar, the 2nd, 9th, and 11th Court of Appeals Bars, the District of Columbia US District Court Bar, the Eastern District of Michigan Bar, the Bar of the Western District of Tennessee and the Bars of the Northern, Central, Eastern and Southern of California .   He is also a member of the District of Columbia Bar,  as well as the California Bar.  Ronald Richards has a storied and diverse legal career which makes him a seasoned Plaintiff's attorney or hardened and savvy defense counsel.  He knows the insides of both sides of the bar and his broad background makes him a lethal advocate who goes non-stop for the firms clients.  The best quality of Mr. Richards and his firm is that they are effective at winning but also knowing when to resolve the case.  They pride themselves on not wasting client resources on a losing proposition, long before the client is in too far.  Prescience is a skill cherished by Mr. Richards and his firm. Ronald Richards began his career in litigation by breaking Beverly Hills High School's record for debate wins. He then went on to UCLA to join the debate team in CIDA. At UCLA, he won the national championship two years in a row. He also won numerous individual event titles and honors. In law school he was elected to Student Faculty Representative where he was an advocate for students facing discipline. He won the American Jurisprudence Award in Bankruptcy. As a lawyer, he is the only published attorney in the country on Proposition 215, the medical marijuana statute. His article is cited by West Publishing and is found in the annotations to 11362.5 of the Health and Safety Code. He has been qualified as an expert witness on marijuana in the Los Angeles Superior Court. In 1999, Mr. Richards was counsel in two of the biggest date rape sex crimes cases in Los Angeles County. He successfully had one case dismissed prior to trial while the other case is still pending. In addition, he has successfully represented many other single incident sex crime clients and obtained satisfactory results. In 2000 and part of 2001, Mr. Richards defended more MDMA or Ecstasy cases than any attorney in the United States.  His office has handled more Ecstasy cases than any other in America and has represented defendants in each of the three largest seizures in U.S. history. Mr. Richards also guest lectures at UCLA for a sex crimes course. Mr. Richards has also recently lectured at Cal. State Los Angeles on poverty and the law. Mr. Richards submits new articles on different topics to various publications like Los Angeles Lawyer. Mr. Richards has litigation cases all across America. In the two years that followed, he won a 39 count Federal Court Jury Trial in the Eastern District of Tennessee and suppressed a large amount of MDMA in the La Paz County Superior Court in Arizona. In addition, he represents persons in the South East for slavery charges and has matters in Illinois relating to pseudoephedrine. In the three years that followed, he had a 29 count indictment where his client was facing 30 years dismissed pretrial.   A copy of the order is available on this website. In the later part of 2000, Mr. Richards represented a major former CEO of a publicly traded company who was indicted for bank fraud and related counts. Mr. Richards was successful in obtaining a dismissal pretrial of two counts and the government moved to dismiss the third count on April 9, 2001. The case was published on appeal in the 9th Circuit Court of Appeals. During 2001, Mr. Richards successfully defended an entire family charged with marijuana for sale, over 151 lbs. Due to successful negotiations and the potential for a winning suppression issue, Richards was able to negotiate non-sales related dispositions with no custody time for all three defendants. This litigation took two years to complete with Richards fighting the entire way. Richards has litigated cases in the Southern District of Illinois, New York, Ohio, Mississippi, Colorado, Michigan, Kansas, Northern District of Florida, Southern District of Florida, New Jersey, Arizona, District of Nevada, Southern District of New, Manhattan Civil Courts, and of course, all of California. Mr. Richards is a good asset to any defense team and enjoys working with attorneys across the country. Richards maintains a central file system on a high speed T-1 line which allows nationwide access to his library and archives. Furthermore, his computerized research is second to none spanning ten different premium services to receive up to date case information and changes in the law that only inure to the benefit of the client.  His team utilizes Surface Pro 8's and are connected to the office file system and 1000 plus databases at all times both in Court and on the road.  They have constant access to case files and data and process a large case load with precision, effectiveness, and accuracy.  The breadth of the case load saves the individual client money as all cases are prudently managed and saving the client fees is the Firm's number one goal at all times.  There are no billing requirements per associate presently, no overhead costs as the firm owns its assets, and the decades long success assures that cases are managed on truly the best of the client's needs and have no bearing on the firm's overhead or expenses. In late 2001 and early 2002, Mr. Richards, who was appointed as counsel in a murder case, successfully dismissed for the second time murder charges against an impoverished defendant. During 2002, Mr. Richards obtained an acquittal in the first ecstasy state prosecution in March of 2002. In 2003, Mr. Richards also obtained a dismissal in Los Angeles County's largest MDMA case in state court. He then settled the case for a second defendant for time served thanks to a very thoughtful and reasonable Assistant Deputy District Attorney. Mr. Richards has also had three federal indictments dismissed on legal grounds in the last three years which is rare and very difficult. (Mr. Richards concedes that he was mostly lucky and he simply asserted what he thought were important issues to raise on behalf of his clients.) In addition, Mr. Richards is known locally as someone who specializes in defending Arab Americans charged with pseudoephedrine crimes. Mr. Richards has never lost a pseudoephedrine case at trial. He is very familiar with the prosecution and defense of those cases which is a very highly specialized area. In 2003, Mr. Richards had numerous national cases which have not been set for trial but are large pseudoephedrine conspiracy cases with record amounts seized. They also involve other controlled substances as well. Mr. Richards strives to maintain a positive working relationship with government prosecutors and due to their reasonable and fair treatment of his current clients, he has been able to obtain responsible and fair dispositions for his clients. This means single digit sentences instead of double digit sentences. This Mr. Richards feels is a reasonable goal for serious offenses that normally and routinely see 15 to 20 year sentences. Mr. Richards was grateful and appreciative for the treatment he and his clients has received from the Department of Justice and the District Attorney's Office in 2003 and hopes to continue to resolve cases when it is in the client's best interest to do so. Mr. Richards emphasizes a careful and thorough review of the facts of each case but also discourages unrealistic assessments of client cases and believes in earnest negotiation in lieu of wasting client and government resources on groundless and frivolous motions or risky trials. Mr. Richards was able to obtain excellent settlements of cases in 2003 and will gladly share those results in a confidential setting. 2004 was a fantastic year for the firm. The media section under articles shows the hard fought results for clients. In 2005, NBC News hired Mr. Richards as a legal analyst covering the Michael Jackson trial. Mr. Richards reports regularly on NBC and MSNBC providing legal analysis for the network and its cable affiliates. There were also some fantastic appellate successes that are also on the site. Mr. Richards continues to resolve cases with prosecutors and continues with the policy of talking out matters rather than simply litigating them with no direction and a great peril to the client. Mr. Richards is an expert in Federal sentencing litigation and appeals and enjoys a wide degree of professional respect for his work in Blakely/Booker appeals and sentencing results. In 2007 Mr. Richards took cases on a case by case basis and worked on acquiring new office space.  If the firm could make a difference on your case, they would take it. In 2008, Mr. Richards filed a wide variety of business litigation disputes, handled various criminal matters that all appear in the media section on this website.  Mr. Richards also lectures at UCLA and continues to do so up to the present. Mr. Richards had two published opinions in the 9th Circuit Court of Appeals in 2008 as well. In 2009, the firm had enjoyed its beautiful new offices and had filed numerous actions for victims of fraud whose investment proceeds were wrongly appropriated from them.  These include professional athletes. In 2010, Mr. Richards started off the year getting dismissed major felonies such as kidnapping for extortion and attempted murder, both through legal arguments, and large amounts of narcotics through legal arguments and suppression motions.  In addition, the civil division of the firm was recently published in verdicts and settlements with a $800,000 judgment where the firm represented the defense. Mr. Richards has also continued to take pro bono or low fee matters where the facts of the case and income of the client warrants it and encourages other attorneys to do the same. To that end, in 2010, he successfully had the contempt citation reversed for a victim of domestic violence who refused to testify. She qualified on the low income program due to the issues in her case. In  2011, Mr. Richards had a wide variety of cases that made headlines. He resolved a major 43 KG cocaine case with $2,000,000 in currency for two Canadians nationals, for less than two years. He obtained a $630,000.00 settlement against Tom Cruise's ex wife for a client, and won a $1,000,000 judgment against a real estate developer at trial in Las Vegas, Nevada. These were just a few of the notable results. In 2012, Mr. Richards won over $40,000,000 in commercial guaranty and borrower enforcement judgments. He collected far over that amount through ADR and pretrial resolutions. The firm successfully closed over $100,000,000 in debt transactions. Mr. Richards had a decision published in the 9th Circuit Court of appeals that dramatically improved the rights of persons who contested forfeiture proceedings. (U.S. v. $999,830.00 in U.S. Currency, 704 F.3d 1042 (9th Cir. 2012) During  2013, Mr. Richards resolved tens of millions of dollars in secured judgments and collections including winning a $15,000,000 summary judgment in the US District Court for the Central District of California. He presently vindicates the rights of landowners who are victimized by mob rules initiatives. He is a strong believer in property rights. He won a SLAPP motion for the Beverly Hills Weekly against the Beverly Hills Courier and is a constant guardian of the first amendment. During 2014, the firm continued to protect property owner rights from land theft by initiative and assists tenants and homeowners who have been victimized by banks overreaching.  The firm has assisted many homeowners who were victims of the housing market decline and has now resolved all of those cases in favor of the homeowner.  The firm also represents many creditors who were victims of borrowers committing fraud or non-payment.  The firm makes a case by case determination as to which parties needs its assistance.   The firm had some very important appeals under review that made new law in California.  In Chodos vs. Borman, (2014) 227 Cal. App. 4th 76,   the firm protected the rights of clients against attorneys who ignore fee agreements.  You can view the opinion. 
Chodos v. Borman,227 Cal. App. 4th 76, 78,173 Cal. Rptr. 3d 266, 268,2014 Cal. App. LEXIS 529, 1,2014 WL 2761733(Cal. App. 2d Dist.2014)
The Court of Appeal reversed a $7.8M judgment on July 9, 2014 publishing the decision. The firm also had another published opinion in 
In re Perl, 2014 Bankr. LEXIS 2477 (B.A.P. 9th Cir. May 30, 2014)
.  The opinion protects residents who remain over a foreclosure even if they are evicted but then file for bankruptcy.  There is a conflict between state and federal law.  The firm has now appealed that decision to the 9th Circuit who will finally rule on the conflict once and for all.  On January 8, 2016, the 9th Circuit reversed the BAP and found in favor of the firm's client.  This is now the law of the land.  (See
Eden Place vs. Perl et. al.
No. 14-60039, decided 1-8-16) click on opinion here:   
Eden Place 9th Circ. Opinion
.  You can watch the oral argument here: In 2014, the firm continued its impact on the healthcare market and business.  It assisted in the acquisition of $14,000,000 in healthcare related debt instruments and the recovery of debt related to health care facilities.  The firm is presently prosecuting pharmacies, nurses, and physicians related to fraud related to licensing and marketing agreements, under reporting of revenues, and various conduct in violation of various federal and state regulations in the health care market.  The firm defended gray market drugs prosecutions in Puerto Rico, Los Angeles, and elsewhere.   The firm obtained a $373,566.54 judgment in Orange County on July 15, 2014 against a physician at Kaiser Medical Center. On the criminal side, the firm assisted in reversing a nine year conviction for a defendant wrongly convicted of pimping.  The Court of Appeal for the 4th District reversed the conviction of Ofer Lupovitz where the firm was trial counsel finding the Court interfered with the firm's representation and committed instructional error. 2014 had been a very exciting year for the firm, its staff, the law clerks, and the attorneys who work with the firm. On October 20, 2014, the Court of Appeal affirmed a $1,800,000 judgment against a defendant that defrauded the buyer in a series of car wash purchases.  The firm used forensic computing and accounting in prosecuting the case.  The firm on October 20, 2014,  also resolved a 47 count elder abuse and fraud case with a disposition of one year. In 2015, the firm collected over $40,000,000 worth of managed debt for clients and continued to protect property rights.  In the last month of the year, the firm settled a $7.8m note purchase matter in Nevada and a $14m note purchase in New Jersey to close out the year.  Both cases were on the eve of trial.  Legal fees were also collected as well for the clients. In 2016, the firm won the largest judgment of the week in April, 2016 for $15,924,421.29.  The firm also obtained a defense verdict for a local real estate developer in a bench trial in the Los Angeles Superior Court with the client facing millions of dollars in exposure.  The Court made findings that the Plaintiff brought the matter without probable cause.  The firm continues to manage and represent under performing assets in achieving their full growth potential.  In September of 2016, the firm defended a local accountant who was sued for a real estate investment and achieved a defense verdict.  This was after the firm also reversed a trial court decision on appeal for he same client. In 2016, Mr. Richards was invited to be a member in the Lawyers of Distinction. You can click here to read about the invitation and membership to this elite group of attorneys.
Lawyers of Distinction Article
On the acquisition side, the firm handled the acquisition of numerous undervalued land assets during 2016 and continues to manage a large portfolio of various debt instruments as well as undervalued assets that need repositioning to improve both the lives of the people surrounding the assets as well as the community at large.  The firm continues to defend the interests of property owners and the independent secondary debt market. In 2017, the firm once again is a leader in making new law.  In Dr. Leevil vs. Westlake Health Care Center, published March 7, 2017, the Court of Appeal published an opinion affirming a purchaser at a foreclosure's sales right to issue a three day notice to vacate immediately after the sale. A copy of the published opinion is attached here:
Dr. Leevil vs. Westlake Health Care Opinion
On June 13, 2017, the firm continued its leadership in making new lending law.   The opinion of Black Sky Capital, LLC vs. Michael, Kathleen Cobb was published.  It overruled 25  years of bad law for lenders related to successive loans on the same property. A copy of the published opinion is attached here:
Black Sky Opinion
A link to listen to Ronald Richards argue this winning opinion listed above can be found here:
Oral Argument Drop Box Audio
On June 14, 2017, the California Supreme Court granted review on a limited issue in Dr. Leevil vs. Westlake Health.  The firm is now honored to appear before the California Supreme Court. A copy of the order granting review is attached here:
Order Granting Review
On August 8, 2017, Ronald Richards made American history by becoming the first attorney to enjoin a federal marijuana prosecution in the United States.  A federal judge issued an injunction against the Department of Justice in USA vs. Pisarski.  A copy of the opinion is available here: Pisarski Stay Order Previously, five different federal judges has rejected stay requests by defendants.  This was the first time since Marijuana was made illegal in 1937 has a federal judge halted a criminal marijuana prosecution. A copy of the transcript of the historic July 28, 2017 hearing is available here.  You can read the skill set of the two advocates in the hearing here: July 28, 2017 Pisarski Hearing Transcript On October 2, 2018, Ronald Richards argued before the California Supreme Court in Dr. Leevil vs. Westlake Health Care Center.  This was will be the first of two California Supreme Court cases for 2018.  Getting to argue once in a professional lifetime is a gift but twice in the same year is frankly, unheard of.  You can watch Mr. Richards in the video below. On February 5, 2019, Ronald Richards again argued before California Supreme Court in Black Sky Capital, LLC vs. Michael Cobb, Kathleen Cobb. You can watch the video below. On May 6, 2019, the California Supreme Court affirmed the Court of Appeal's decision in Black Sky Capital, LLC vs. Michael Cobb et. al.  The decision marked a milestone for the firm and Mr. Richards.  Not only was this Mr. Richards second trip to the Supreme Court in 2019 but the affirmation solidified a $2,000,000 win for the firm's client.  The decision is a landmark decision which will positively effect borrowers and lenders across the state by the thousands.  It will open up credit markets and the decision was extensively covered locally. A copy of the opinion can by found here: Winning Black Sky Opinion Here is the oral argument in United States vs. Pisarski from December 3, 2019.  In this case, we are defending the nations only injunction against the federal government from prosecuting a marijuana patient/cultivator. Mr. Richards is licensed to practice law in multiple jurisdictions in the Untied States and travels nationally for his practice. On July 10, 2020, the United States Court of Appeals for the 9th Circuit affirmed the injunction against the Department of Justice capping off one of the firm's greatest legal accomplishments and vindicating the rights of California cultivators to grow cannabis free from federal prosecution.    The firm has been defending Mr. Pisarski since 2012.  To state the obvious, Mr. Richards sticks with his clients to the end.  A copy of the opinion can be found here:
On May 5, 2021, the Law Offices of Ronald Richards & Associates, APC obtained a judgment against Mohamed Hadid for $26,387,498.80 for breach of a guaranty in a commercial case.  The judgment is close to $30,000,000 as of August 30, 2022 with interest and fees.
On June 10, 2021, the Law Offices of Ronald Richards & Associates, APC was appointed as Special Litigation Counsel to the Chapter 7 Trustee in the Girardi Keese bankruptcy in the Central District of California to pursue TV personality Erika Jayne aka Erika Girardi and her related entities on behalf of the Estate.
A copy of the appointment order is attached here:
On October 7, 2021, a trustee's deed upon sale was recorded for the foreclosing lender, the firm successfully liquidated a large hotel site in Buena Park, California for the lender creditor.  The debt was over $30,000,000.  The firm took the asset within 10 1/2 months of purchase of the note which included a Debtor's bankruptcy.  This was an extremely fast timetable.   The case is In Re Source Hotel.
On March 24, 2022, the firm represented a lender entity in an auction for 65.63 acres of vacant land in the Beverly Hills Post Office are formerly owned by an entity controlled by Mohamed Hadid, father of Bella and Gigi Hadid.  The firm had been pursuing enforcement of a Note against two bankrupt entities of Hadid's.  A dual purpose of the litigation besides enforcement of the debt was also to make sure that if the lender gained control of the asset or made sure it was not in the hands of an entity that wanted to develop it, the property would remain green space for hikers and the public to enjoy for eternity.  The hiking trail is known as the Hastian Trail.   The auction was covered in local media.  A copy of an article is here. 
Auction On Hadid's Franklin Canyon Land Produces A Winner Bidder
.  
On June 8, 2022, the firm made new law in reversing a bankruptcy court order denying single asset real estate status in In Re Source Hotel.  This completed the liquidation of the asset for the creditor client who purchased the Note from the prior lender.  A copy of the opinion is here: 
SARE Reversal Opinion
.
On February 10, 2023, the firm filed a Federal fraud complaint against attorney Sara King. The case has made national coverage due to the numerous victims and egregious conduct by the attorney. A copy of the complaint is here as well as a new story: LDR International Limited vs. Sara King
On March 3, 2023, the firm referred the matter to law enforcement who was already reviewing this matter.
On July 24, 2023, Sara King plead guilty to a two-count information for wire fraud and money laundering. 
On October 17, 2023, the firm obtained a $30,775,500 fraud and theft judgment against Sara King.  A copy of the judgment is here:  Judgment Against Sara King